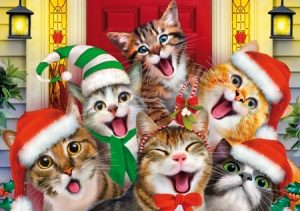 A huge thank you to everyone who supported our Christmas dinner appeal for the animals or who have donated treats, toys and food.
The shelter animals had a lovely Christmas. All the dogs went for long and muddy walks and the cats all received lots of cuddles. Santa Paws dropped by the shelter and left all of the animals a pile of toys and treats to open outside of their pens.
Every animal on site tucked in to a delicious festive meal. The dogs had roast chicken with veggies, the cats had either pink salmon or roast chicken – depending on their preferences.
Thank you to everyone who has supported us, not just this Christmas, but throughout 2020. It has been a difficult year but we have been overwhelmed by the generosity of our supporters.