Coronavirus Update :Our gates remain locked and we are only open for strictly pre-arranged animal viewing appointments between 11and and 2pm . Visitors will be asked to wear a mask for the duration of visit.**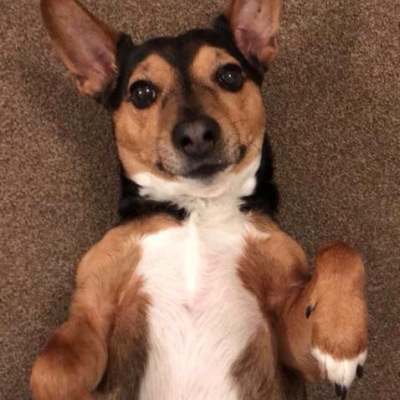 Adopt a Dog
The animals available for adoption are always changing and we try to keep our website up to date but it is advisable to contact the shelter to see if an animal has found a home, or if there are any new animals for adoption.
*** RESERVED ***
Name: Joss
Age: Approx 6 years old
Sex: Female
Breed: Stafforshire Bull Terrier Cross
Neutered : Yes
Vaccinated:Yes
Microchipped:Yes
Good with cats: Will ignore to start with, but then gets over excited when they move and tries to chase them.
Good with other Dogs: Good with other dogs after careful intro – could live with a calm male dog.
Good with children?  Although Joss has never lived with children, she has played with lots of older children since being in our care and really enjoys their company. We would now consider rehoming her with older and dog savvy children.
Summary: Joss is a delightful dog and is very well loved by all the staff and volunteers at the shelter. We do not understand why she has been in our care for so long. She is perfectly well behaved in the home and thrives off human company. She can pull a little on the lead and does quite like the sound of her own voice when first going out on walks, but hey no one is perfect. Joss is such a loving girl and loves cuddles and kisses. She can be very playful and loves her toys and will have a funny five minutes running around like a loon each evening. She is a joy to be around, but as much as we will miss her, Joss really needs to find her forever home. She has recently become stressed in kennels and this has resulted in some fur loss. We need to find the beautiful soul a loving home- its a crime that she is wasting her life in kennels.
*** REHOMED ***
Name: Sooty
Age: 4 years
Sex:Female
Breed: Terrier Cross
Neutered: Yes
Vaccinated: Yes
Microchipped: Yes
Good with children? Hasn't been around children before – only children over 10 years old
Good with other dogs? No, not good with other animals must be the only pet.
Cats: No
Name: Fluke
Age: 2 years
Sex: Male
Breed: Staffordshire Bull terrier
Neutered: Yes
Vaccinated: Yes
Microchipped: Yes
Good with children? Fluke could live with teenage children but really is too full on for younger children.
Good with other dogs? NO – Fluke really needs to be the only dog in his new home.
Cats: No – Fluke likes to chase them
Summary: Fluke will need to be rehomed to a quiet/rural area, with an understanding and patient owner. Due to a lack of socialisation when he was young, Fluke can really struggle at times when in the presence of unknown dogs (particularly large ones), this behaviour is also worse when he is in unfamiliar surroundings, and he can be quiet reactive. His new owner will need to be able to work with our dog trainer to help Fluke settle and relax in his new home.   
Fluke is a lovely but lively boy with bundles of energy. He was trained as an agility dog in his previous home which was a great way of channelling his energy. He is very good at jumping so a very high fence and secure garden is a must! He has a very sensitive tummy, so is on a strictly fish based diet and this really suits him. He has a lovely glossy coat and really is in lovely condition. Fluke is very quick to learn and very eager to please. He will be a delightful dog once he is placed in the right home.
*** REHOMED ***
Name: Max
Age:7-8 years
Sex: Male
Breed: Staffie
Neutered: Yes
Vaccinated: Yes
Microchipped: Yes
Good with children? 
Good with other dogs? 
Cats: 
Summary: Max is a lovely boy who enjoys a fuss and going on walks. He is not great with other dogs so needs to be the only pet in the home. Max can only live with older children