Coronavirus Update: We have now reopened. Reception is manned between 10am-2pm – Tuesday to Saturday. Animal viewings are now strictly by appointment – appointments are available 7 days a week. Visitors will be asked to wear a mask for the duration of visit.**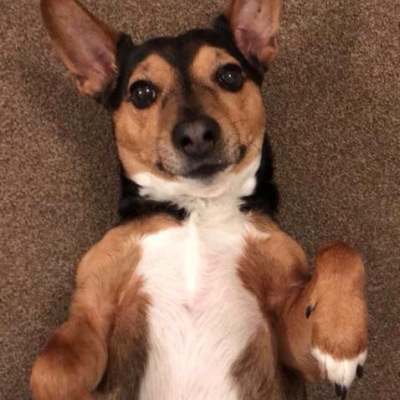 Adopt a Dog
The animals available for adoption are always changing and we try to keep our website up to date but it is advisable to contact the shelter to see if an animal has found a home, or if there are any new animals for adoption.
To apply to adopt, please email us at stfrancisanimalwelfare@gmail.com or give us a call on 02380 693282 and we will send you an application form
Name: Blue
Age: 8 years old
Sex: Male
Breed: Stafforshire Bull Terrier
Neutered : Yes
Vaccinated:Yes
Microchipped:Yes
Good with cats: No.
Good with other Dogs: Blue needs to be the only dog in his new home.
Good with children?  No. Blue needs an adult only home
Summary:
Handsome people-loving 

Blue

 is very easy to have around the house, he is polite around food, although he will 'check' you haven't dropped anything – just in case. It isn't a problem to leave him on his own for a few hours at a time. 

Blue

 loves routine and to go for regular walks, whether 10 mins around the block in the rain or 2 hours exploring in the woods, he is a great companion on these trips and enjoys outings in the car too.  

Blue

 does enjoy his sleep, especially on the comfy sofa, ideally curled up next to you but he will settle himself without nagging for attention.  

Blue

 is very trainable and learns new things easily.
However 

Blue

 is an alert, slightly anxious kind of dog, he is quick to check things out, particularly the letter box, motorbikes and running cats.  If given the chance he will take the leader role as way to control his environment.  With consistent and firm boundaries there has been a marked improvement both around the front door and when out walking.   

Blue

 can be reactive with other dogs, especially if they are reactive too,  but some of his most joyful and relaxed moments have been walking and playing with terriers so this is an area that could make a big difference for 

Blue

 if managed correctly.
If you are the kind of person that can be disciplined and consistent, with your own calm boundaries and want to be loved to within an inch, then 

Blue

 is the boy for you!  

Blue

has lived with male adults most of his life which would suit him best, however he is currently living very happily with a lady fosterer.
Name: Jasper
Age: Approx 7 years
Breed: Wire haired Terrier cross
Sex: Male – still needs to be neutered but this is unable to be done yet for medical reasons
Vaccinated: Not yet for medical reasons
Microchipped: Yes
Good with other dogs? No
Good with cats? No
Good with children? Adult only home
Summary: We are looking initially for a foster home for Jasper with a view to adopt.
Name: Fluke
Age: 2 years
Sex: Male
Breed: Staffordshire Bull terrier
Neutered: Yes
Vaccinated: Yes
Microchipped: Yes
Good with children? Fluke could live with teenage children but really is too full on for younger children.
Good with other dogs? NO – Fluke really needs to be the only dog in his new home.
Cats: No – Fluke likes to chase them
Summary: Fluke will need to be rehomed to a quiet/rural area, with an understanding and patient owner. Due to a lack of socialisation when he was young, Fluke can really struggle at times when in the presence of unknown dogs (particularly large ones), this behaviour is also worse when he is in unfamiliar surroundings, and he can be quiet reactive. His new owner will need to be able to work with our dog trainer to help Fluke settle and relax in his new home.   
Fluke is a lovely but lively boy with bundles of energy. He was trained as an agility dog in his previous home which was a great way of channelling his energy. He is very good at jumping so a very high fence and secure garden is a must! He has a very sensitive tummy, so is on a strictly fish based diet and this really suits him. He has a lovely glossy coat and really is in lovely condition. Fluke is very quick to learn and very eager to please. He will be a delightful dog once he is placed in the right home.
Name: Millie
Age: 4 years
Breed: Greyhound
Sex: Spayed female
Vaccinated: Yes
Microchipped: Yes
Good with other dogs? Okay with some after a careful intro.
Good with cats? No
Good with children? Millie is a gentle dog and although has never lived with children, we would place her in a home with older sensible children (not babies or toddlers)
Summary: Millie is a retired racing dog and was on the track up until a week before she came into our care.
We have had her spayed and she has now fully recovered and is looking for a new home.
Millie has always lived in a kennel but she is a very clean dog and we feel that she will adapt quickly to living in a home.
Millie loves cuddles and human affection. She would cuddle for hours!
Millie prefers shorter walks – she is not keen on long walks at all and really drags to go home. She does still like to burn off some of her energy and zoom around, so will need a secure area where she can do this safely!
Could you offer this beautiful girl her forever home?
Name: Scampi
Breed: Jack Russel Terrier cross
Good with other dogs? Only after a very careful introduction. Scampi would need to be the only dog in his new home
Good with children? Scampi needs a adult only home
Summary: Scampi came into rescue when his elderly owner passed away. 
Scampi loves lots of exercise and loves playing with toys. He needs a new owner who will take him for lots of walks. He is not a dog who enjoys being cooped up in the house. 
He can be initially nervous with new dogs and will bark at them. He did live with another dog, but they have a very volatile relationship – seemingly the other dogs fault, but we have decided to rehome them separately and feel that Scampi really would prefer to be the only dog in his new home. 
He can be quite excitable with new people and new situations and sometime isn't really sure how to act. With patience and understanding, Scampi will make an excellent companion. 
Could you offer this handsome boy his forever home?