Coronavirus Update: We have now reopened. Reception is manned between 10am-2pm – Tuesday to Saturday. Animal viewings are now strictly by appointment – appointments are available 7 days a week. Visitors will be asked to wear a mask for the duration of visit.**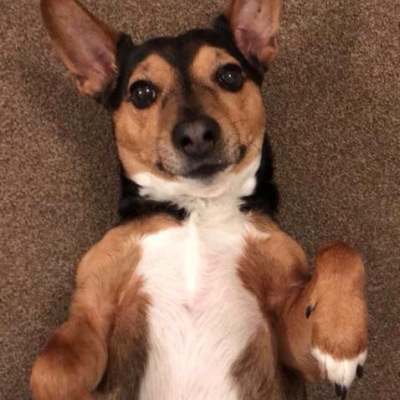 Adopt a Dog
The animals available for adoption are always changing and we try to keep our website up to date but it is advisable to contact the shelter to see if an animal has found a home, or if there are any new animals for adoption.
To apply to adopt, please email us at stfrancisanimalwelfare@gmail.com or give us a call on 02380 693282 and we will send you an application form
Name: Cooper
Age: 2.5 years old
Sex: Male
Breed: Lurcher
Neutered : Yes
Vaccinated: Yes
Microchipped:Yes
Good with cats: No.
Good with other dogs: Cooper needs to be the only dog in his new home.
Good with children?  Good with older children whom are used to dogs
Summary:  Cooper is a lovely boy who enjoys long walks, playing and spending time with people.
He does suffer from separation anxiety, so will need owners who are initially around for the majority of the day whilst this problem is worked through. He really does not like being alone – this includes being alone in the garden. If alone, he will jump a fence to search for company.
He loves walking with friendly other dogs, he possibly could live with another dog after a very long and careful intro. Through choice, we think he would prefer to be the only pet – at least to start with.
Like most lurchers, he is not keen on small furry animals – including cats.
Cooper is not yet fully house trained.
Names: Poppy & Fleur
Age: 6 + 7 years
Breed: Long haired Chihuahuas
Sex: Female
Vaccinated: Yes
Microchipped: Yes
Good with other dogs? Poppy is, Fleur only likes Poppy!
Good with cats? Poppy yes, Fleur no!
Good with children? They would prefer an adult home but would be okay with young sensible visitors
Summary: Ideally we are looking to rehome these two girls together. They are sisters (same parents but different litters) and have always lived together.
Poppy (cream) is the chilled out one and Fleur (black and tan) is the feisty one! Both adore people (especially women) and each other (most of the time!)
They are not couch potatoes and need a home with a owner/owners, who are prepared to walk them daily. Fleur especially enjoys (and needs) lots of exercise.
Name: Fluke
Age: 2 years
Sex: Male
Breed: Staffordshire Bull terrier
Neutered: Yes
Vaccinated: Yes
Microchipped: Yes
Good with children? Fluke could live with teenage children but really is too full on for younger children.
Good with other dogs? NO – Fluke really needs to be the only dog in his new home.
Cats: No – Fluke likes to chase them
Summary: Fluke will need to be rehomed to a quiet/rural area, with an understanding and patient owner. Due to a lack of socialisation when he was young, Fluke can really struggle at times when in the presence of unknown dogs (particularly large ones), this behaviour is also worse when he is in unfamiliar surroundings, and he can be quiet reactive. His new owner will need to be able to work with our dog trainer to help Fluke settle and relax in his new home.   
Fluke is a lovely but lively boy with bundles of energy. He was trained as an agility dog in his previous home which was a great way of channelling his energy. He is very good at jumping so a very high fence and secure garden is a must! He has a very sensitive tummy, so is on a strictly fish based diet and this really suits him. He has a lovely glossy coat and really is in lovely condition. Fluke is very quick to learn and very eager to please. He will be a delightful dog once he is placed in the right home.