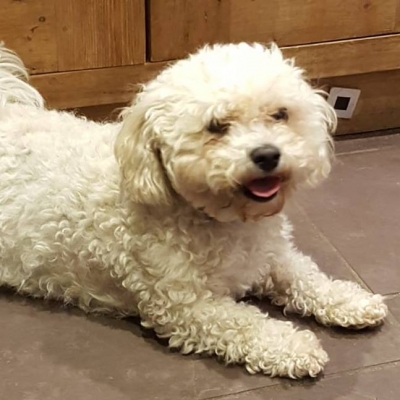 Lost & Found
Losing a beloved pet can be a very stressful time.
Here are St Francis, we know that sometimes trying to find your dog can feel like looking for a needle in a haystack, but there are things you can do to recover them.
Take a look below to see what you can do.
I've lost my dog, what can I do?
Microchips are Essential
Your dog's microchip is essential to finding them should they go missing. By law, all dogs must be microchipped at 8 weeks old. The microchip holds all of the key information that is needed to reunite you with your dog. Contact the database that your dog is registered with and report them as missing so that their status is immediately updated.
It is also advisable to contact your local dog warden and notify them that your dog is missing. We also highly recommend that you visit the Dog Lost website and register your pet as lost there.
Check your local area
Here you can find important contact information for local areas. These can help aid the speedy recovery of your dog should they go missing. 
Southampton area
Contact the Animal Welfare Officers on 023 8083 3005 (option 4) during office hours to report your dog missing.
We will need to know:
Where you lost your dog

A brief description of him/her

Whether they were wearing a collar and ID tag or are microchipped
Winchester area
Contact Winchester City Council between the hours of:
Monday to Thursday: 09:00 – 17:00

Friday: 09:00 – 16:30
Portsmouth area
Contact Portsmouth Stray Dog Kennels. Call 023 9268 8181 you can find the kennels at Great Salterns Farm, Burrfields Road, Portsmouth.
Don't forget!
Talk to people who regularly walk around the area (milkman, postman, newspaper delivery people) and to your neighbours – they may have seen your dog. You could also contact local TV and Radio stations – they may be able to run 'LOST' adverts for you. 
Continue the search
Other agencies that may have information about lost dogs include local vets and animal welfare agencies such as the RSPCA or Blue Cross. Notify your local vet centres, animal hospitals and rehoming centres.
To update your registered contact details on the Petlog database or for any matters relating to lost and found pets, please contact the Petlog helpline on 01296 336 579 or email petlogadmin@thekennelclub.org.uk.
You can also use the following websites to register your dog as missing:
I've found a dog, what can I do?
Contacting the council
If you find a stray dog on the streets, it is imperative that you report the stray dog to the council. Local police no longer have any responsibilities for stray pets and therefore cannot answer calls.
Remember, even if the dog is friendly or looks abandoned it is illegal to keep a dog without informing the authorities and Animal Welfare Officers. Below is some information that may be useful when trying to contact your local council.
Southampton City Council
If you find a lost dog during normal working hours, you can contact the council on 023 8083 3005 (option 4).
If you find a dog outside normal office hours, contact the council's out of hours emergency number on 023 8023 3344, or Three Oaks Boarding Kennels on 01489 892760 for advice on what to do next.
Winchester City Council
If you find a lost dog during normal working hours, you can contact the council on 01962 848097 or EHealth@winchester.gov.uk. You will often (but not always) find an Animal Welfare Officer between 08:00 and 09:00 during the week on 01962 848456 or 01962 848548.
Outside of these hours Winchester City Council provides a drop off facility for stray dogs. If you have lost or found a dog, please contact our "out of hours" number on 01962 865407 and we will provide further information on this service.
Portsmouth City Council
You can phone the council during working hours on 023 9268 8181, this will direct you to Great Salterns Farm, Burrfields Road, Portsmouth, the city's kennels.
You can also phone 01730 234318 in the East Hampshire area around Petersfield during working hours. 
Don't forget!
You can also ring local vets and rescue centres to see whether they can check and scan the found pet for free for a microchip.
If the dog is friendly and approachable, you can also check whether the dog is wearing a tag – call the number and leave a message for the owner.
Want to Volunteer?
To apply for volunteering please telephone the shelter or call in for an application form. All volunteers must be over 18.