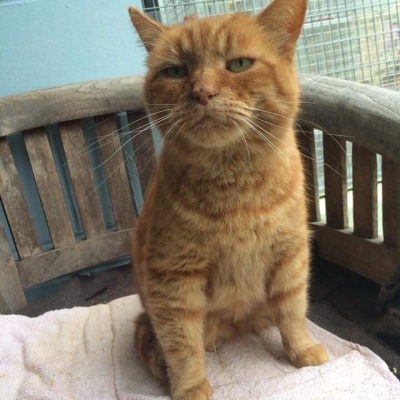 Lost & Found
Losing a beloved pet can be a very stressful time.
Here are St Francis, we know that sometimes trying to find your cat can feel like looking for a needle in a haystack, but there are things you can do to recover them.
Take a look below to see what you can do.
I've lost my cat, what can I do?
Microchips are Essential
As with any animal, microchips are essential to reuniting your feline friend with you. If your cat is microchipped, you can contact Petlog on 0844 4633999. 
To update your registered contact details on the Petlog database or for any matters relating to lost and found pets, please contact the Petlog helpline on 01296 336 579 or email petlogadmin@thekennelclub.org.uk.
Check your local area
The first thing to do is to check your home and garden. Your cat might be hiding in the unlikeliest of places – from cupboards to sheds.
Speak to your neighbours as well as any delivery people – they might have seen your cat somewhere.

Local Animal Shelters
You can contact local animal shelters to you to see if your cat has already been found and delivered to a centre. You can find the list on CatChat. 
RSPCA
You can contact the RSPCA to see whether they have had any cats handed into them on 0300 1234 999, they may also be able to give you advice.
Cats Protection
You can contact the Cats Protection by phoning 03000 121212, they also have plenty of tips and advice on their site to help you find your pet.
Don't forget!
Putting up flyers and advertising on social media are a few great ways to get the message out that your cat is missing. You can find more information here on the Cats Protection website. 
I've found a cat, what can I do?
Have you found a stray?
Before you take in a stray cat you need to be sure it doesn't have an owner nearby. Many cats are not house cats and will often wander from their home during the day and night as part of their routine.
Don't forget!
Please be careful not to mistake an old thin cat with a stray. Many elderly cats get very thin in old age but are well cared for.
If the cat needs medical assistance, please contact your local vet, Cats Protection or the RSPCA for advice and help. Please do not delay treatment waiting for a returned call. 
Animal Search UK
You can get in touch with Animal Search UK on their website or phone them on 01432 761 406 for more information and determine whether the cat has been registered as missing by their owner.
Cat Specific Helplines
You can find more advice and contact helplines on the CatChat website.
There is also the Cats Protection which can phone on 03000 121212 for more information about how to determine a stray cat.
National Pet Register
For more information about pets reported missing, you can use the National Pet Register's website here. 
Continue the investigation
If you strongly suspect that a cat is a stray, please consider these steps before taking them to a shelter. 
Ask around
Ask your neighbours if they know whose cat it is. Knock on all the doors in your street and even streets adjacent to yours. What might seem like a long distance to us, might be a hop over a few fences to a cat.
Advertise locally
Put up notices and posters in the area and in local shops, preferably with a picture, asking if the cat has an owner. Keep some information about the cat back so you can be sure anyone claiming the cat is the rightful owner.
Scan for a microchip
Take the cat (in a secure cat basket) to a local vet to have it scanned for a microchip. Vets don't normally charge for this service. This is a tiny chip inserted under the skin with all the cats owners details. If the cat is chipped we can call the owner. In some cases Cats Protection volunteers can call round to scan the cat.
Use social media
Post details on social media such as your local Facebook page or Lost & Found pages online. Please be aware that not everyone is on social media or will see the page you advertise on so it is important to not solely rely on social media for advertising.
Use a paper collar
Put a paper collar on the cat with a note asking for the owner to contact you or us. Cats Protection can supply you with paper collars. Ideally a collar should be left on for 2 weeks before it is classed as a stray.
Want to Volunteer?
To apply for volunteering please telephone or call into the shelter for an application form. All volunteers must be over 18.