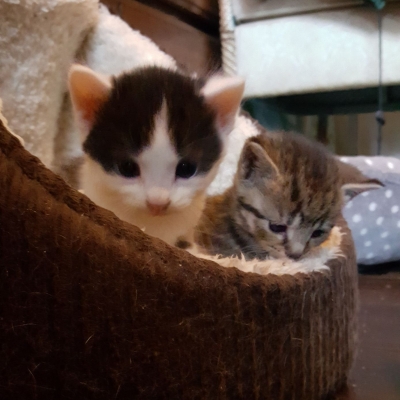 Adopt a Cat
The animals available for adoption are always changing and we try to keep our website up to date but it is advisable to contact the shelter to see if an animal has found a home, or if there are any new animals for adoption.
Names: Big Tabs and Little Tabs
Age: Approx. 18 years
Sex: Male
Spayed/neutered? Yes
Vaccinated:Yes
Microchipped:Yes
Summary:
Introducing Big Tabs and Little Tabs. 
These cheeky and playful brothers are looking for their retirement home. 
They are 18 years young and have always been together, so we will not separate them under any circumstances. 
Big Tabs is the lazier of the two and spends a good chunk of his day snoozing and dreaming about food – he loves to do this whilst snuggled up on someone's lap. 
Little Tabs is always on the go and is always up for fun and really cannot receive enough attention. He is very playful and still enjoys playing with toys.
Both brothers go crazy for catnip! They also love a good scratch on their scratching posts and enjoy climbing up them.
Little Tabs does have a thyroid problem but this is now controlled with medication (St Francis can assist with these costs, if the right home is found) 
Big Tabs – apart from being a little overweight – is in good health. 
Both boys are already neutered and will be microchipped before being rehomed. 
They get on very well with other cats and will tolerate very calm and non offensive dogs (they are currently very good friends with the shelter managers elderly Bichon Frise) 
Big Tabs and Little Tabs owners passed away around 8 years ago and they went to live with their elderly son. Sadly, he was taken into a care home last year during lockdown and the boys found themselves in rescue. They were predominantly house cats in their original home, so they will have little or no road sense. Any potential owners will need to live in a fairly quiet area. 
We would rather they went to a home with no resident children – although they are good with them, we feel at their age, they would prefer a quieter home. They would love to have kind children occasionally visit them though, as they would enjoy a good play every now and then. 
Name: Oscar
Age: 5-7 years
Sex: Male
Breed: Bengal
Spayed/neutered? Yes
Vaccinated: Yes
Microchipped: Yes
Not good with other animals.
Has never been around young children.
Summary:
Oscar is looking for a semi-rural, adult only home. He would be able to live with a 'cat-savvy' dog, but no other cats. He is a very loving boy and very playful. He loves playing with toys, goes crazy for catnip and his pastimes include zooming around like a loon! 
He is an amazing hunter and likes to bring presents home for his owners.
He has never lived near a road, so he really cannot live in a built up busy area and being a Bengal, he will wander.
He does not like being cooped up and will get destructive if not allowed outside access.
He really is a stunning boy and has so much love to give. He will make the perfect companion the the right family. 
Names: Money
Age: Approx. 2 years
Sex: Male
Breed: DSH
Spayed/neutered? Yes
Vaccinated:Yes
Microchipped:Yes
Good with other cats.
Nervous of dogs.
Has never been around children.
Summary
Money has always been a house cat but enjoyed going for walks on his harness. We believe he would rather go to a home where he can safely access the great outdoors – he will have gained very little road sense, so we would be looking for a home in a quiet area.
Money is an incredibly affectionate boy and loves being pampered. He will do anything for Dreamies or cat nip and is very playful.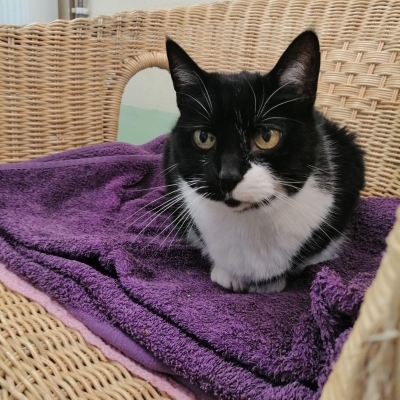 Name: Lynx
Age:11
Sex: Female
Breed: Domestic Shorthair
Colour: Black and White
Spayed/neutered? Yes
Vaccinated: Yes
Microchipped: Yes
Summary: Lynx has no tail – reason unknown, but makes up for her lack of tail with bundles of personality. She is one of the cheekiest cats currently in our care. She is around 11 years old now, but plays like a kitten. Loves her toys and cat nip and enjoys rolling around like a loon. Lynx is a faithful and loving little girl once she has bonded with you and will make the right person, an excellent companion. She gets on well with other older cats, but isn't keen on dogs (or young children!)
Name: Bugsy and Karma
Age: Approx. 7 years
Sex: Male and female
Spayed/neutered? Yes
Vaccinated: Yes
Microchipped: Yes
Have never been around children.
Sadly came into rescue as their elderly owner passed away. They have always lived in a very rural area and enjoy exploring the great outdoors. They are both very affectionate (as well as being good hunters!) and love human company.
Bugsy and Karma are looking for their forever home together – they are rarely apart and would be devastated to be split up.