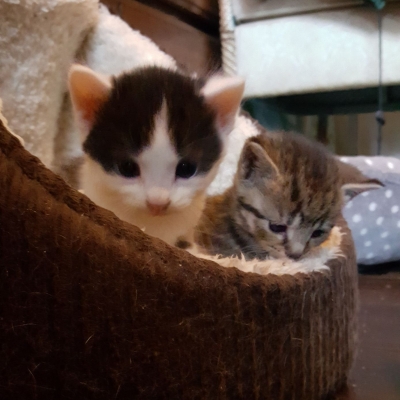 Adopt a Cat
The animals available for adoption are always changing and we try to keep our website up to date but it is advisable to contact the shelter to see if an animal has found a home, or if there are any new animals for adoption.
To apply to adopt, please email us at stfrancisanimalwelfare@gmail.com or give us a call on 02380 693282 and we will send you an application form
Good with other cats? Lambert would prefer to be the only cat in her new home 
Good with children? Yes – Older children
Summary: Lambert is a delightful cat who enjoys playing – she can certainly act like a overgrown kitten at times!
Lambert would love to live in a quiet rural or semi rural area, where she can explore the big wide world safely.
Lambert enjoys the company of people, including children.
We would like Lambert to go to a home who is experienced with the Bengal breed.
Name: Milo
Age: 2 Years
Breed: DSH Black & White
Sex: Neutered Male
Vaccinated: Yes
Microchipped: Yes
Good with other cats? Yes
Good with children? Would prefer a adult home
Good with dogs? No
Summary: Milo is a nervous boy, but once he learns to trust you, will let you gently stroke his head.
He gets on  well with other cats and appears to enjoy their company.
Milo was kept as a housecat (he did not like being cooped up at all!) so has no road experience. We are looking for a  home in a quiet area,  with gentle and sensible owners who will help to bring him out of his shell.
Breed: Siamese Cross – Grey + White
Good with other cats? Yes
Good with children? Has previously lived with sensible cat savvy children
Summary: Ralph is a nervous, yet affectionate little boy. He is incredibly handsome, but although he is a Siamese cross, does not really resemble the breed in looks.
He adores the company of other cats and would benefit from going to a home with a friendly a playful cat for company.
Ralph has previously lived with kind and sensible children.
Name: Ryton
Age: 7 years old
Breed: DSH Black and white
Sex: Neutered Male
Vaccinated: Yes
Microchipped: Yes
Good with other cats? Ryton would prefer to be the only cat in his new home
Good with children? Ryton has never lived with children
Good with dogs? Unknown, but very unlikely
Summary: Ryton came into rescue through no fault of his own. Sadly his owner had to move to the other side of the country and was unable to take with her.
Ryton really wasn't keen on being in our cattery to begin with – he is not keen on change. He has now settled and we are seeing his true personality shine through.
He is a affectionate boy and loves following you around like a little dog.
He enjoys spending time outside (weather permitting!) and will come running back in when he hears the rustle of the Dreamies tin!
Ryton would prefer a quiet home.
Name: Titan
Age: 5 Years
Breed: DSH Black & White
Sex: Spayed Female
Good with other cats? No, Titan likes being the only cat
Good with dogs? No, dogs scare Titan
Good with children? Teenagers
Summary: Titan is a big chunk of a girl who is currently on a diet and has a daily exercise routine!
Other than carrying a bit too much weight, Titan is in good health.
She loves people – on her terms – and can be a demanding little cat.
She is full of personality and would be fantastic company for a cat experienced home.
We currently have two female Bengal cross older kittens.
These girls are looking for Bengal experienced homes – to go separately.
They are approx 5 months old, vaccinated and microchipped and will be spayed ASAP.
Please note that these girls are not keen on other cats and we would prefer them to be the only pet in their new homes.