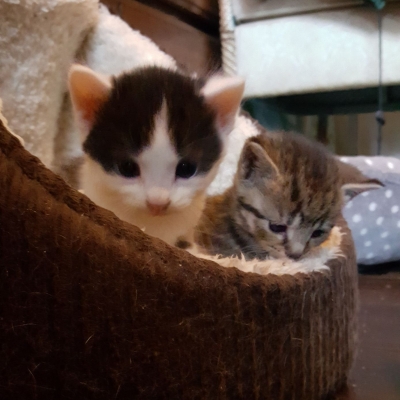 Adopt a Cat
The animals available for adoption are always changing and we try to keep our website up to date but it is advisable to contact the shelter to see if an animal has found a home, or if there are any new animals for adoption.
To apply to adopt, please email us at stfrancisanimalwelfare@gmail.com or give us a call on 02380 693282 and we will send you an application form
Name: Titan
Age: 5 Years
Breed: DSH Black & White
Sex: Spayed Female
Good with other cats? No, Titan likes being the only cat
Good with dogs? No, dogs scare Titan
Good with children? Teenagers
Summary: Titan is a big chunk of a girl who is currently on a diet and has a daily exercise routine!
Other than carrying a bit too much weight, Titan is in good health.
She loves people – on her terms – and can be a demanding little cat.
She is full of personality and would be fantastic company for a cat experienced home.
Name: Soldier
Age: 18 Years
Colour: Black
Sex: Un-neutered Male
Good with other cats? No, Soldier has never lived with other animals.
Good with dogs? No, he has never lived with dogs.
Good with children? Teenagers or older.
Summary: Soldier is in good health, albeit a bit doddery now. He enjoys a groom from known and trusted friends and will soon become pals, if offered a few Dreamies!
He has always been a house cat and has never been outside. (He has access to the outside of his cattery pen and doesn't use it). He has also never lived with other animals or children, so a quieter home would ideally suit him.
Unfortunately Soldiers owner never got him neutered. Due to his age, through choice we would rather not put him under anaesthetic and through a operation. We are holding on to the hope that someone out there may just be prepared to take this old boy on, intact.
He does not scent mark or spray, but does need his tray cleaning out more frequently than a neutered cat.
We currently have a female Bengal cross older kitten called Cleo who is looking for her forever home.
She is looking for Bengal experienced home.
She is approx 9 months old, vaccinated, microchipped, and spayed.
Please note that she is not keen on other cats and we would prefer her to be the only pet in her new home.